Welcome to Florianopolis and welcome to Santa Catarina!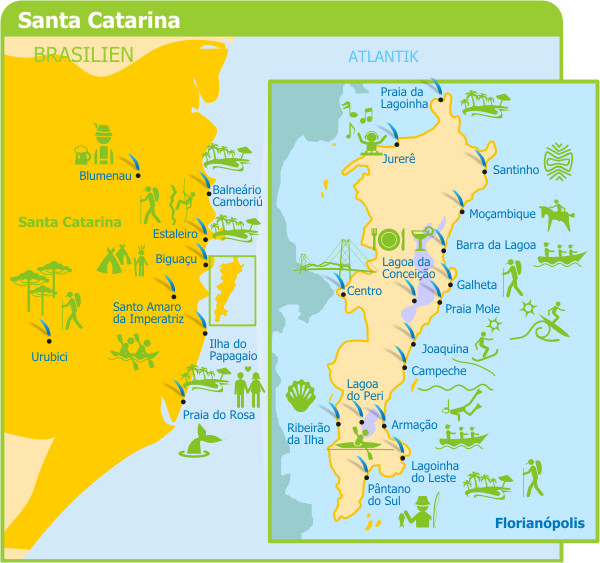 On this site you'll find various useful tips on how to plan your trip to Florianopolis. We're fortunate and happy to call Florianopolis (or Floripa as locals call it) our home. And we'd love to share our passion for this lovely island with you.
We selected some of the nicest pousadas and hotels in Florianopolis. Just let us know what kind of accommodation you're looking for and we'll provide you with some nice hotel options to choose from.

We also put together the best tour and day trip options in Florianopolis. Just tell us what kind of activity you're interested in.

Santa Catarina and its capital city Florianopolis offer an unimaginable variety of activity possibilities, beautiful sceneries and beaches which are the stuff of dreams. Small romantic fishing locations, solitary groves, white celestial beaches, the Atlantic rainforest and undisturbed canyons constitute the best requisites for an unforgettable holiday in Brazil. Discover with us the paradise of Santa Catarina, still hardly known outside of Brazil even today. Let yourself be captivated by the warm people and the beauty this region has to offer.



Florianopolis: Island of Magic

Florianopolis has 436,5 Km2 and around 407 thousand habitants and is the capital of Santa Catarina , south Brazil. It is an elongated island about 54 km of length and 18 km wide. Floripa – the Magic Island as it is known, has a high development level and life quality. It is bathed by the Atlantic Ocean and has around 100 beaches full of attractions that fascinate its visitors. Besides its indisputable beauties, it has an excellent leisure infrastructure , commerce, and tourism services. There are commercial centers amidst typical fishing villages and communities. The leisure options are for all ages: nautical and extreme sports, ecotourism, cultural and historical tourism.



How to get here and ways of transportation
You can reach Florianpoolis from two highways: BR-101 for those who come from the south: Rio Grande do Sul and countries around Brazil. BR-101 for those who come from other Brazilian states like Paraná and São Paulo. BR-282 for those who come from the west part of the country. The stretch São Paulo - Florianopolis from BR116 (Régis Bittencourt) and BR101 roads is already 90% duplicated (around 705 km). There is a bus option leaving from the biggest Brazilian capitals. The bus companies Catarinense, Itapemirim, Pluma, and Real Expresso are the main ones. Whoever comes by bus arrives downtown to the Rita Maria Bus Station, very near to the island bridge access. The bus station receives bus companies from all over Brazil and from South America. There is a cab service in its exit and also the urban buses option around 150m from there; (Ticen). There are executive buses (micro buses with air conditioning) and regular buses too. There are 9 urban bus stations that integrate the transportation of the whole island. Florianopolis has its main Hercílio Luz International Airport and works with the main Brazilian and South American companies (Aerolíneas Argentinas, Lloyd Aéreo Boliviano S.A, Orinter – American Airlines, Rio-Sul, Transbrasil S.A., Vasp, Varig S.A., Gol and Tam). It was designed to receive comfortably around 980 thousand passengers a year, but already receives 1.5 million passengers a year. At the airport, there is a cab service, car rental companies, urban and executive bus transportation.



Climate and weather in Florianopolis
Florianopolis has the climate characteristics inherent to the southern Brazilian coast. The seasons are well characterized. Precipitation is significant and well distributed throughout the year. The atmospheric pressure average in Florianopolis is 1013.3 mb with minimum values occurring in January, and the maximum in July. The relative humidity is high and its annual average is 82%. Summer is from December to March and it is characterized by sunny days and hot weather, cloudy in the evening and early morning with the possibility of quick showers and thunder. The temperature average during this period ranges from 21 C to 30 ° C. Autumn is from March to May, in this season the rains are not so frequent and the cold temperatures gradually increase. In some moments there can be a strong drop in temperature due to climate phenomena common to this season. There can also be a Íay summer, characterized with unusually high temperatures out of season. The air is dry, the skies clear and the days are often sunny. It is typically warm until the afternoon when the temperatures start falling drastically. Another typical feature of this season is the fog in the early hours of the day and at night, when the humidity is very high. The south prevailing winds during the following months blow strong and cold. The temperature average in this season ranges from 18 º C to 27 º C Winter is from June to August and is marked by the arrival of incessant cold fronts with the presence of cold-dry air masses. In upland areas frost can occur. Climatic conditions also produce fog in the early mornings and evenings. The temperature average in this season is from 13 º C to 22 º C. The spring is from September to November. In this season the weather is pleasant, perfect to enjoy outdoors. The rainfall increases compared to the winter and there are prolonged periods without rain, which favors the rapid increase in temperature from September on, averaging from 16 º C to 25 ° C.


Historical Aspects
The first Florianopolis habitants were tupis-guaranis indigenous tribes. They used to plant, fish and collect shellfishes to survive. There are evidences of their presence in this area in the archaeological sites that date back to 4800 A.C. Florianópolis was colonized by Azoreans. This can be seen in the architecture of many preserved houses that date back to the colonial period and that are distributed all over the island. One of the oldest Azorean villages is Ribeirão da Ilha. This village was founded in 1760. Besides the typical architecture, the village has Nossa Senhora da Lapa do Ribeirão Church that dates back to 1806 and the Eco Museum where there are settlers' objects and a flour mill. Another Azorean core is Santo Antônio de Lisboa, that dates back to 1750. It has interesting places to visit as Nossa Senhora das Necessidades Church (1756); an Azorean house, where it is possible to find handicrafts, pottery and coffee; and finally, the Caminho dos Açores Flour Mill (1860). You can get there by SC-401 highway, Km 17. In this score there are several folk dance groups like Pau de Fita, Boi de Mamão and the Ratoeira, formed by community members, who are encouraged at the religious festivals to maintain the Azorian habits and traditions.
In these two Azorean centers it is possible to eat very well in several pleasant restaurants and pubs on the sea front and enjoy a beautiful Florianopolis' sunset.



City Landmarks
The"postcard" image which identifies Florianopolis is the famous Hercílio Luz Bridge, that is 819m long and was built in 1926. It was the first road link between the island and the mainland. Another milestone is Cruz and Sousa Palace, located in the Metropolitan Cathedral Square in front of XV de Novembro Square, downtown area. It was built in the 18th century and served as the Province President's residence and workplace. From around the same period townhouses were built, authentic copies of the Luso-Brazilian architecture, located on Fernando Machado street. XV de Novembro square is the place where Florianopolis started being built. It was forested in the nineteenth century and proudly boasts a huge centennial fig tree. In the Public Market, which dates back to 1898, there is seafood, fresh fish and handicrafts for sale and innumerous bars and restaurants. The location is perfect to enjoy special and exotic foods in a very relaxed environment. It is located on Paulo Fontes Avenue and it is open from Monday to Friday from 7 am to 7 pm and on Saturdays from 7 am to 1:30 pm.



Fortresses
The fortresses made up the islands old defense system against pirates, mainly Belgian, Dutch and Spanish seafaring intruders. They date back to the 18th century and attract about 200,000 visitors a year who come with schooner tours. The biggest is Santa Cruz Anhatomirim Fortress (1739/1744). An interesting fact is that this fortress has never fired a cannon shot. It has a wonderful view of Ratones, Arvoredo and Santa Catarina islands, and also of the other fortresses. There is a restaurant, a snack bar, a marine aquarium and an exhibition of aquatic mammals Another fortress that can be visited by boat is Santo Antônio de Ratones (1740/1744). This building has medieval features, with a drawbridge across, water fountain and aqueduct. Located near an Atlantic Forest park, its main attractions are Ratones Ecological Trail, which allows the integration for visitors to local flora and fauna, and the photographic exhibition "Santo Antônio de Ratones Fortress Memory. In Forte Beach there is São José da Ponta Grossa Fortress (1740), a beautiful construction of 3 levels, with dungeon, guardhouse, headquarter, commandant's house, barn and chapel. There are also bobbin lace sellers. Its access is through Jurerê International Beach and the visitation is open from 9 am to 12 pm and from 1 pm to 6 pm. In January, from 9 am to 7 pm.

Museums
The Eli Heil's Egg World, that has sculptures and paintings of this artist, is located in SC 401 highway, 7079, near Pojar, Cacupé. Victor Meirelles Museum, an 18th century house where the painter was born, is located on the corner of Victor Meirelles and Saldanha Marinho street, downtown. Victor Meirelles is considered the greatest Brazilian historical painter, whose work "The First Mass in Brazil" is one of the most valuable paintings of the country. The Customs' Museum was built in 1875/1876, in neoclassical style. Nowadays it is the Santa Catarina Plastic Artists Association office - ACAP and a souvenir shop. It is also a place for local artists exhibitions. In the same building there is a pub that is open until 11 pm.

Handicrafts
In addition to the Casa Azorean's pottery, the island has carpets, blankets and bags made of fishing net, sheep wool and natural fibers. These crafts can be found at Nara Guichon's studio - Rozália Paulina Ferreira Road, 4343, Costa de Dentro, access by Pantano do Sul. There are also resin miniatures and plaster shaped replicas of Santa Catarina's historical buildings on 15 de Novembro Street, 147, Santo Antônio de Lisboa and at Customs' Museum.

Theater
Florianópolis has 4 theaters: the historic Álvaro de Carvalho theater, which started being built in 1857 and was opened in 1875, with 470 seats. The modern Ademir Rosa theater, located in the Integrated Center of Culture, with 956 seats, the Igrejinha (UFSC) theater and the União Beneficente Recreativa Operária theater (UBRO).

Pubs and parties
Lagoa's region concentrates the best parties of the island, with several options such as Latitude 27, John Bull Pub and Confraria das Artes. El Divino Lounge is the most popular downtown pub. The traffic is usually difficult in this area and some streets were turned into pedestrian zones. But there are several great pubs and restaurants. In summer, there are some options as Ilha do Cascaes at Costão do Santinho resort and KM-7 in Jurerê International.

Gastronomy
There are a lot of gastronomic places on the island, where you can enjoy a wide variety of dishes, from Oriental, Spanish, Portuguese and Brazilian cuisine. Florianopolis is famous for seafood dishes. Oysters are cultivated in the south part of the island near the mainland, and are very freshly produced. Good shrimp are found in Lagoa da Conceição. Mullet is the typical fish in most Florianopolis' dishes. One of the most typical dishes of the region is the tench, caught between May and June. It is a dish in which the fish is salted, dried and served grilled.

Churches
The Metropolitan Cathedral was built between 1753 and 1773 and holds a significant collection of religious art. São Francisco church is located in the historical part of the city, its construction started in 1803 and it opened in 1915. Despite the changes and repainting suffered since its founding in 1780, Nossa Senhora da Conceição church, located next to Morro da Lagoa, it is an excellent example of the architecture brought by the Portuguese to the island. Nossa Senhora da Lapa do Ribeirão church was built in 1763, it is located in São João district and retains many original architectural features. This church was visited by Dom Pedro II. São Sebastião do Campeche Chapel is declared a historic, artistic and architectural landmark of the city, and according to thoral tradition it was built in 1826.

Archaeological Site
Santinho Archaeological Outdoor Museum is visited annually by more than 60 thousand people. It has painted inscriptions engraved on the rocks dating back to between one thousand and 4 thousand years ago. Joaquina Archaeological Site dates back to about 4 thousand years ago. In this area polished stone axes, scouts, human bones, shells and charcoal were found.

Shopping Centers
In the heart of the city there is Beira Mar Shopping Center, located on Bocaiúva street, 2468 downtown. Another option is Floripa Shopping Center, located on SC 401 road, 3116 in Saco Grande. In Jurerê there is Jurerê Open Shopping Center located on Rais avenue, 555. The most complete one is Iguatemi Shopping Center, located on Madre Benvenuta Avenue, 687

Water park
The Aqua Show Park is a themed water park surrounded by gardens, flowers and birds. It is located on SC-403 road, 3868 - Ingleses - Florianópolis - SC.

Geomorphological Aspects
Florianópolis has beaches, cliffs, reefs, mangroves and dunes. Geologically is composed of two basic configurations: the crystalline terrains and the recent formation of sedimentary terrains. The crystalline terrains form the highest parts of the island ranging from 400 to 540 meters. The sedimentary terrains are the lower parts where there are dunes and mangroves.



Lagoa da Conceição
It is known as one of the most beautiful Florianopolis' postcards. This place has good infrastructure of hotels and lodges, bars and restaurants, malls and shops in general, all of them are located in "Centrinho". Lagoa da Conceição is in a great area, because it is in the central region of the island, next to many beaches. It was one of the first Florianopolis' settlements and the Azorean colonization features are present in the architecture of many houses and customs of the native population. There is a lagoon 15 km long (from north to south) and it is connected to the sea by a channel.

Beaches


Florianopolis has a wide variety of beaches, ranging from green, clear calm waters to rougher ones. The layout of the island makes the water of the beaches on the continent side calmer and warmer than the ones on the Atlantic Ocean side. The beaches on the north side are the hottest and more crowded ones.

Caieira da Barra do Sul Beach
It has green hills filled with Atlantic Forest and a deep blue and calm sea. It is located 38km from downtown. It can be seen from Palhoça city.
Armação Beach
This beach is in the south of the island, it is 2.25 km long and it is perfect for tours, leisure activities, eating great food and fishing. It has good tourist and service infrastructure. It is a beach with clean clear water and has white sand. It is 25 km away from the Florianopolis downtown area. Armação Beach has its name due to the whale exploitation in this area, active until 1910. There, it is Sant'ana Chapel, from 1772, one of the oldest Florianopolis chapels. There is also Lagoa do Peri Park, and boats that leave regularly from the beach towards Campeche island. Beside it, there is Matadeiro Beach, one of the surfers' favorites and accessed to through a beautiful trail. It has several restaurants located across from a square with a century-old Azorean chapel. It is a Florianopolis traditional fishing community, where there is one of the most important archaeological sites.

Pântano do Sul Beach
Located in the south of the island, it is one of the richest fishermen villages and is 2.35 km in length. Amongst its main attractions are the calm turquoise-colored and extremely clean sea and many seafood-specialize restaurants. It is the most traditional fishing beach in Santa Catarina. It is 28 km away from the Florianopolis downtown area. The beach is very calm and quiet, perfect for resting and walking on the sea front. There are also amazing places like the archaeological site located in Cemitério Hill, the Lagoinha Beach's access trails and the boat tours. You should also visit Solidão Beach and make the trail to Saquinho Beach.

Naufragados Beach
Located at the furthest point in the south of the island. To reach this beach you have to travel 28 km from downtown to Ribeirão da Ilha, and then 12 km on an unpaved road to Caiera da Barra do Sul, and then will need to walk three kilometers through the hill in order to get there. Its name is due to the sinking of an Azorean ship in 1751. The beach has 1500 meters in length and white sand, it is also known for rougher seas, though much visited by those who prefer a wilder landscape.

Barra da Lagoa Beach
It is located on the east side of the island and is great for safer swimming, leisure activities, trekking, fishing and "light"surfing. It is one of the most popular beaches of Florianopolis. Despite being an open sea beach, the sea is more protected and calm, excellent for those who want to start surfing. In addition, the sand is very clear and fine and its water has low salinity due to the mixing with the fresh water from Conceição Lagoon. Officially it has 650 meters of coastline, but it isn't geographically separated from Moçambique Beach, which is 8 km long. It is a great place for trekking. Another local attraction is a Suspension Bridge that passes over the barra channel. Crossing this bridge, leads to a trail that goes to Prainha do Leste, a beautiful tiny beach with almost untouched nature, surrounded by rocks and a lot of vegetation. Barra da Lagoa has a very good tourist infrastructure, with several options for lodging and good restaurants. It is also the largest fishing nucleus of the island. Every year, in July, the Mullet fish Festival takes place. Its distance from Florianopolis' downtown area is 20 km and from the airport some 23 km.

Bom Abrigo Beach
It is a small cove with calm water and is very protected from the wind. It is located in a residential area, but has bars and restaurants.

Cacupé Beach
This sea area located in the western region of Florianopolis is a place where fishing is still traditional and where there is also an oyster cultivation. Excellent for those seeking for a peaceful and charming landscape. It is a good place for a picnic or a walk through to the bars and restaurants along the sea-front.

Campeche Beach
Located on the east coast of the island, 15 km from downtown and 10 km from Hercílio Luz International Airport, is a 5 km long beach, with white sand, clear emerald-colored waters and rougher seas. 2 km from the beach is Campeche Island, with a Caribbean-style beach: white sand, clear and transparent waters. Besides the natural beauty, this region is an important archaeological heritage of the state. There are more than 100 petroglyphs remains of civilizations that lived on the island from over 2000 years ago.

Canasvieiras Beach
Located in the north of the island, 27 km from downtown. It is a 2 km long beach. In front there is Francês Island. Its waters are clear green, warm, and calm and the sand is very fine. It is a perfect place for tours, leisure activities, swimming, trekking, fishing and boat tours because it has excellent infrastructure. There are many hotels and lodges, bars and restaurants and a lot of party activities. From a pier, schooner tours leave to other beaches and historic fortresses. There are also options for water sports like windsurfing, jet skiing, kayaks and banana boats. Tennis is another sport very popular in hotels and clubs there. It is possible to rent dinghies, which, with good wind conditions, take forty minutes to get to Anhatomirim Island. Bikes rental is another option on this beach.

Ingleses Beach
It is located to the north of the island, 36 km from downtown, not very wide, 5 kilometers long and has excellent infrastructure with many hotels, lodges, bars and restaurants. There are boat trip options and sand-boarding on the dunes. The origin of its name is attributed to the sinking of an English ship which occurred in mid-eighteenth century. Some crew members even chose to live in that region. It is a wonderful beach, with open sea but few waves and blue and warm waters.

Galheta Beach
It is located next to Mole Beach. It is a wilder beach, with open water and that can only be reached on foot. To get there, you must follow a 300 meters path amidst rock formations along its coast on the left side of Mole Beach. It has no gastronomic services. Since 1986 this beach is used as a nudist beach.

Matadeiro Beach
It is separated from Armação Beach by a small river, which can only be reached on foot. It is an excellent place for surfing, (but also safer swimming to the southern end), volleyball, racquetball, soccer, etc.. It has great variety of bars. Gravatá Beach It is a small and rounded cove, which makes it an almost deserted beach. It turns into a natural pool on the days of south wind, thus protected.

Itaguaçu Beach
Its name comes from the rounded rocks by the sea. Its water is not suitable for swimming, but it has beautiful landscape.

Mole Beach
It isn't indicated for children, is excellent for surfing with grainy,white sand, where paragliders make their landings. It has public parking, showers, and lifeguards. There are also bars that serve seafood and snacks. It is 15 km from downtown.

Morro das Pedras Beach
It is located 22 km from downtown. Its waters are very rough, so swimming requires some care. In front of it there is the "Jesuits Retreat House", a building made with stones taken from the region, where you can get a beautiful view of Armação Beach and Peri lake.

Santinho Beach
Located 40 km from downtown and has clear sea with waves, great for surfing. It is 2.5 km long. The main attraction is the Outdoor Archaeological Museum which has a heritage of stone inscriptions from 5 thousand years ago.

Moçambique Beach
Also known as "Praia Grande", it is the largest more isolated beaches of the island, with 12.5 km of soft sand. Located 35 km from downtown, it has a small commercial infrastructure. It is close to conservation areas such as the Rio Vermelho Park, a 400 thousand square meters reserve. It is a good option for surfing with its open waters. Its name is due to the sands that are plentiful with a shellfish called Moçambique, similar to oyster.

Jurerê Beach
Located to the north of the island, is about 23 km from downtown and 30 km from Hercílio Luz International Airport. It is a beach with clear, green and calm waters. It is great for families with children and for those who enjoy water sports like boating, sailboating and jet-skiing. It has excellent infrastructure such as: shopping, markets, restaurants, lodges and hotels. Due of its urbanization it was divided into Jurerê (traditional) and Jurerê International. Daniela Beach 3km long and located in the north of the island. Daniela is also a beach with calm waters, with few very small waves, perfect for swimming and especially for families with children. Excellent for calmer water sports and fishing.

Forte Beach
Its waters are calm and warm. However, it isn't a very crowed beach due to its difficult-access and limited variety of services. But there are some bars where they serve seafood, and you can rent boats.

Cachoeira do Bom Jesus Beach
It is 3 km long and located between the calm-water beaches of Ponta das Canas and Canasvieiras. It has good infrastructure with excellent hotels, lodges, restaurants, markets, schools and drugstores. It is located 27 kilometers from downtown and has several campsites.

Ponta das Canas Beach
Located to the north of the island, it is bordered on one side with Cachoeira do Bom Jesus and on the other side with the beaches of Lagoinha and Brava. It is located 34 km from Florianopolis' downtown area and 40 km from Hercílio Luz International Airport. Along its 1.9 kilometers you can find great bars, restaurants, hotels and lodges. It is also an excellent choice for water sports.

Lagoinha Beach
This small beach is only 800 meters long, has a calm sea, clear waters and fine sand. Good for families with children. It is 34 km from downtown.

Lagoinha do Leste Beach
Located between Armação and Pântano do Sul beaches. You can only reach it via a hill trail walk (about an hour). It has neither bars nor restaurants. It has soft sand and a fairly rough sea. A small fresh water lagoon is located on the left side of the beach, a good place for camping. It has lush vegetation extending for approximately one and a half kilometers.

Lagoinha de Ponta das Canas Beach
Small cove surrounded by hills, with calm waters. It is a perfect beach to take children. It has good infrastructure, with bars, hotels and restaurants.

Joaquina Beach
Worldwide known for its perfect conditions for surfing, offers excellent infrastructure for its visitors. It is 3.5 km long and located 17 km from downtown. It is exposed to open sea. Its name comes from a story that an old lace-maker called Joaquina was in the sand doing her craft when she was engulfed by a huge wave. Its excellent infrastructure includes hotels, restaurants, bars, police station, lifeguards, public showers and toilets (that require a small fee to use). It also has a large parking area, ice cream shops and crafts. Since it often has big waves and strong currents, it is not so good for swimming. It also has a lighting system, making it possible to practice sports even at night.

Brava Beach
Located 38 km from downtown, is a 1.5 km long cove, where the blue sea contrasts with the green of the Atlantic Forest. This kind of vegetation covers much part of its slopes. Perfect for surfing because the sea is often quite agitated, otherwise with clear waters that often allow for safe swimming. It is also possible to practice diving and such extreme sports. It has good lodging infrastructure and a wonderful panoramic view from the top of the hill.

Ribeirão da Ilha Beach
Located in the south bay of the island, 27 km from downtown and 19 km from the airport, Ribeirão da Ilha district was the first European community of Florianopolis. Historians date back the arrival of the first European explorers to this region in 1506, and in the eighteenth century the settlement effectively populated. It's perfect for tours, leisure activities, eating great food, whilst visiting this historical heritage. The several small beaches in the district have very calm waters and thickish sand. They have narrow streets and numerous excellent restaurants.

Sambaqui Beach
It belongs to the Santo Antônio de Lisboa area with a beach of calm waters, a place where the "boi-de-mamão" culture -dance still thrives. It also has several bars and very good restaurants. The name comes from the accumulation of shells scattered along the sand, drawing attention to researchers interested in these examples of fossilized plants and animals, and also the cemetery- remains of its indigenous people, who inhabited the region.

Açores Beach
It is located 15 km from downtown, and is in the southern part of Pântano do Sul cove. It is a beach of hard compressed sand and cooler water, good for swimming, especially on days with little wind.

Santo Antônio de Lisboa Beach
It has warmer calm waters. This locality has strong Azorean influence. Here is where the first Azorean village was founded. It has large rocks and boulders scattered throughout its thick sand. Besides fishing, oyster cultivation is another important activity.

Saudade Beach
It is a calm, small and narrow beach, beside Desembargador Pedro Silva Avenue. It is usually crowded. It has a shady grove and is good for swimming.

Solidão Beach
It is a cove between hills and rocks in Pântano do Sul. It has a wide range of hard sand. It is good for swimming and has a waterfall with a natural swimming pool.


Tapera Beach
Located on the west coast of the island, near the airport, 30 miles from downtown and its waters are calm. It is one and a half kilometer long, with hard white sand. Next to it there is Largo Island. Tapera Beach has bars on the beach, and it is a nice option for a tour.