Urubici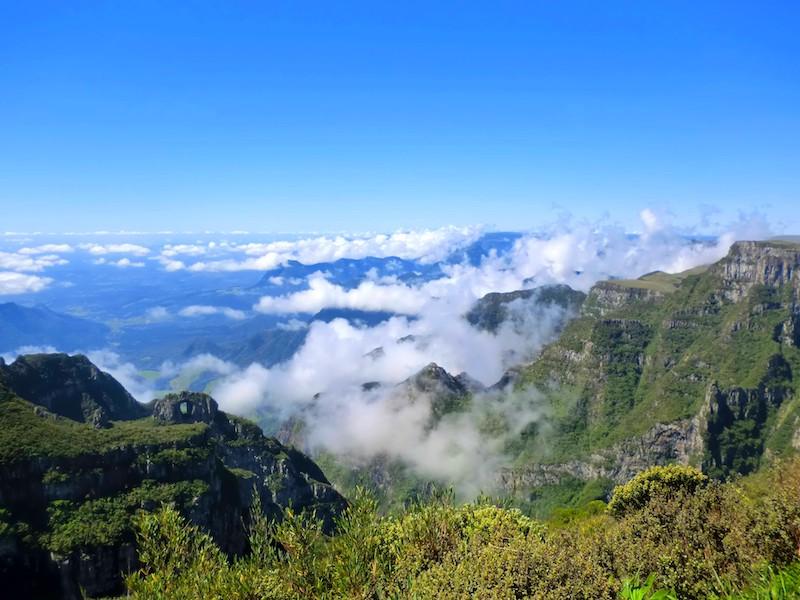 160 kilometers away from the city center of Florianopolis, you can find Uribici in the middle of the unique canyon landscape of Serra Catarinense. Within the Serra Catarinense on a total area of 49.300 ha, the cities Urubici, Bom Jardim da Serra, Orleans, Grao-Para and the national park Sao Joaquim were founded. Near Urubici are the highest mountains of Santa Catarina and entire South Brazil with an altitude of almost 2000 meters.
This is the region with the lowest temperatures of Santa Catarina and in winter there might also be snow. The city lies 925 meters above sea level.
The highest point of the region is part and of whole South Brazil is at 1827 meters and is part of the mountain "Morro da igreja", which provides a breathtaking view. The massif soars steeply within the surroundings. Rivers with crystal clear water fall down at the edges of the mountain and make their way through tight valleys. Hereby, they form waterfalls up to 100 meters high. The surroundings of Urubici belongs to the most beautiful regions in Santa Catarina, due to the giant canyons, crystal clear streams and rivers, araucaria and fern forests, impressing rock formations, green valleys and waterfalls, which form the landscape. Here are the best options for eco tourism.



The region of Serra Catarinense provides a great variety of outdoor and leisure activities and many great offers for daytrips in Urubici. Vacationers can explore the great treasure of nature spectacles and adventure activities.
The impressing surroundings of Urubici can be discovered by foot while trekking at unique hiking trails, in the air while paragliding, by bike, while rappelling and climbing at the giant canyons of 1800 meters height, in the water while rafting and kayaking and horseback. Also mysterious rock paintings from the Stone Age can be observed.
The beauty of the landscape is impressing and a dream and "must" for every nature lover!
The most important branch of industry of Urubici is the agriculture. The city of Urubici is the greatest suppliers of vegetables with a production of 74.000 tons of vegetables a year. At the same time, Urubici is the second greatest supplier of turkey in Brazil.
The region of Urubici is well established for tourists and awaits you with wonderful accommodations and cozy pousadas. Enjoy the nice, friendly hospitality of the inhabitants of Urubici and get spoiled! The well equipped pousadas in Uribici offer comfort within the marvelous nature and guarantee an unforgettable holiday in Santa Catarina. Also the restaurants in Urubici are charming.
Get to know our daytrips to Urubici!
Travel with us horseback across the vast plateaus and through the high canyons of Serra Catarinense in the South of Brazil.