Mocambique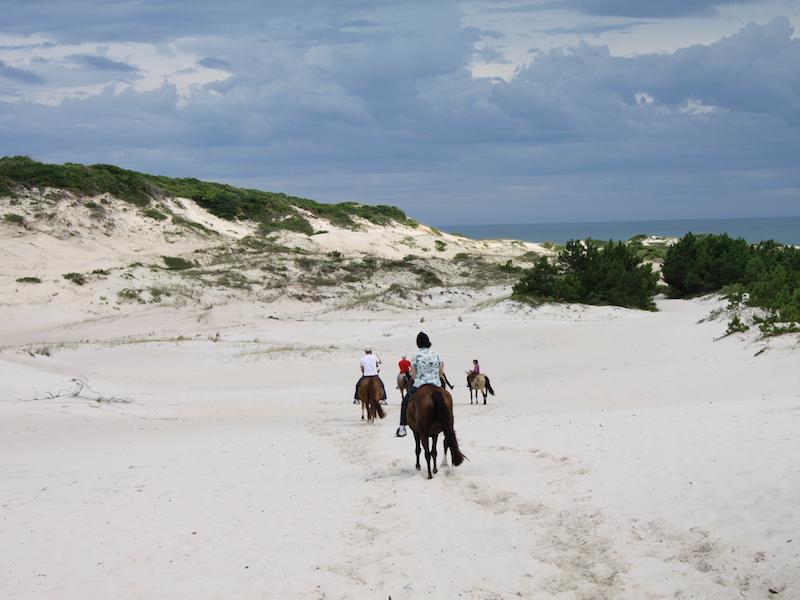 With a length of 12,5 kilometers, the beach of Mocambique is the longest beach of the island of Florianopolis. Surrounded by a unique dune landscape, the beach of Mocambique is situated near nature reserves. The park "Parque Florestal do Rio Velmelho" is a reserve with an area of 4000m² and offers a diversified vegetation and exotic birds species . Take a walk at this wonderful place with the white dunes, which are separating the park from the ocean. Here is the paradise for nature lovers!
The endless, white, sandy beach is perfectly convenient for exploring this beautiful landscape horseback and to career along the longest beach of the island of Florianopolis.
In Mocambique you can find a scientific base about ocean culture, which is managed by the park and can be visited. The isolated location of the beach, its size and only a slight commercial infrastructure are the factors that guarantee privacy. This is the ideal place for relaxation! At the beach of Mocambique there is no built-up area and no paved streets that lead to the beach because of the natural protection. However, accommodation can be found in the village Rio Vermelho , only a footstep away from the beach. Surfers enjoy the high waves and undercurrents at Praia Mocambique that come up because of the location open to the high seas. Praia Mocambique provides a great opportunity for surfing without crowds of people. The part of the beach "Camping da Barra" is convenient for windsurfing.
Praia Mocambique is 35 kilometers away from the city center of Florianopolis.
Get more information about our day trip "horseback at the beach" here.