Joaquina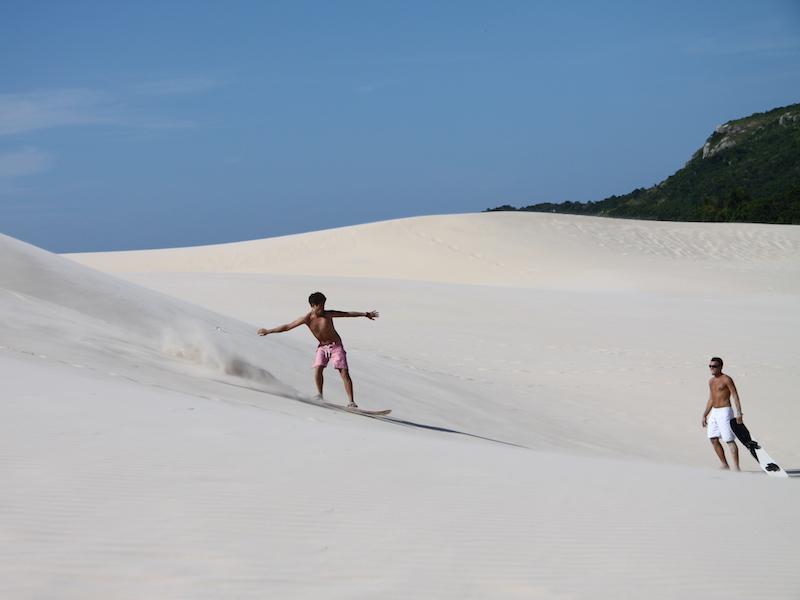 The beach of Joaquina is world widely famous for the perfect surfing conditions and offers an excellent infrastructzre for its visitors. It belongs to the most favored beaches of the island of Florianopolis and to the most famous beaches of Brazil. Surfers are enjoying the high waves at Joaquina beach, as they are the best ones of the whole island of Florianopolis. Since the 70ies, there are surfers competing with each other in Joaquina and since 1986 also international surf competitions take place. The beach of Joaquina has a length of 3,5 kilometers and its position is unprotected to the open seas. Due to the high waves and the strong current, Joaquina beach is not very convenient for swimming.
Joaquina beach is also famous for the beautiful, wide dune landscape. Vacationers can take some action with sandboarding and surf the dunes. The sandboards for this leisure activity can be lent out at Joaquina. The colorful boards on the white sand under the clear blue sky are very nice to see. Enjoy the beautiful panoramic view across the beach from the rocky coast.
Sports fans have made the right choice with Joaquina beach. Due to floodlights, it is also possible to play volleyball and soccer in the night. The smooth, 3 kilometers long, sandy beach is perfectly convenient for long promenades and jogging. The wide and long area of sand stretches from Praia Campeche to the beach of Morro das Pedras. The nice village Lagoa de Conceicao is located behind the dunes of Joaquina, which is situated at the greatest freshwater lagoon of Florianopolis. The distance to Praia Mole is about 3 kilometers and Joaquina beach is 17 kilometers away from the city center of Florianopolis.
Vacationers find an excellent infrastructure in Joaquina with hotels, restaurants, bars, a police station, lifeguards, public showers and toilets. Furthermore, there are a big parking lot, ice cream parlors, handcrafts and a great variety of accommodation offers with pousadas and hotels. Moreover, Joaquina provides a variety of excursions, leisure activities, day trips and outdoor activities, which guarantee a diversified holiday in Florianopolis, Brazil.
The name of the beach derives from the story of the widow Joaquina. The fishing boat of her husband was found without him after a storm. The sad widow was waiting for her husband day to day, sitting on a rock, until she was taken by a giant wave herself.
Get to know more about sandboarding and surf lessons.