Praia Mole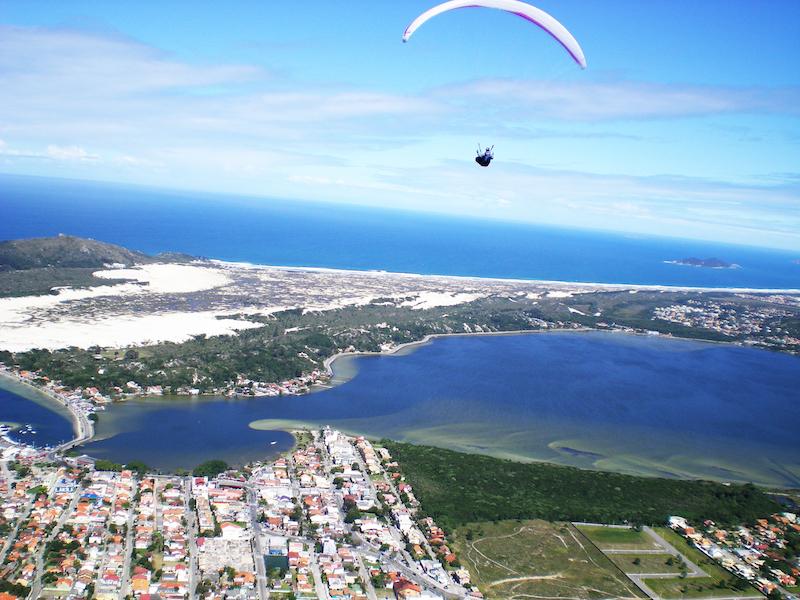 The favoured beach town Praia Mole provides a very good infrastructure. Many restaurants and a vivid night life can be found within the surroundings of Praia Mole.
What´s more, the variety of accommodation offers is great: Chose between small, cozy pousadas or a hotel directly at the beach. The sea is sparkling in turquoise colours and the beach is of soft, white sand. The green hillside, the rounded rocks and small offshore islands make this place almost heavenly.
The Mole beach is especially favoured by young people and sports fans and is called the surf paradise of the island. Due to the openness to the high seas, the waves are very high and are used for several surf tournaments at the Mole beach.
The southern, rough hillside is occupied by paragliders, who use it as a platform for their flights. They land in the soft, white sand of the 1 kilometer long beach. There is also a volleyball court at the beach and ball games are played all over the beach.
The Mole beach is the place where the in-crowd of Florianopolis comes together and even many actors and famous artists are enjoying the sun at this wonderful place. Vacationers can chose between various beach bars, which serve sea food and snacks and offer opportunities to rest.
This beach is also known for its gay and lesbian scene. Although there is a lifeguard station, the beach of Mole is not recommendable to families with children, because of the strong current. A public parking lot and showers are provided. The Praia Mole beach is located 15 kilometers from the city center on Florianopolis and attracts vacationers with its great variety of offers for excursions, hiking, paragliding, surfing and many activities more. The suggestions for outdoor activities are numerous and vacationers have the opportunity to undertake miscellaneous day trips.
Here is more info about paragliding and surf courses.