Lagoinha do Leste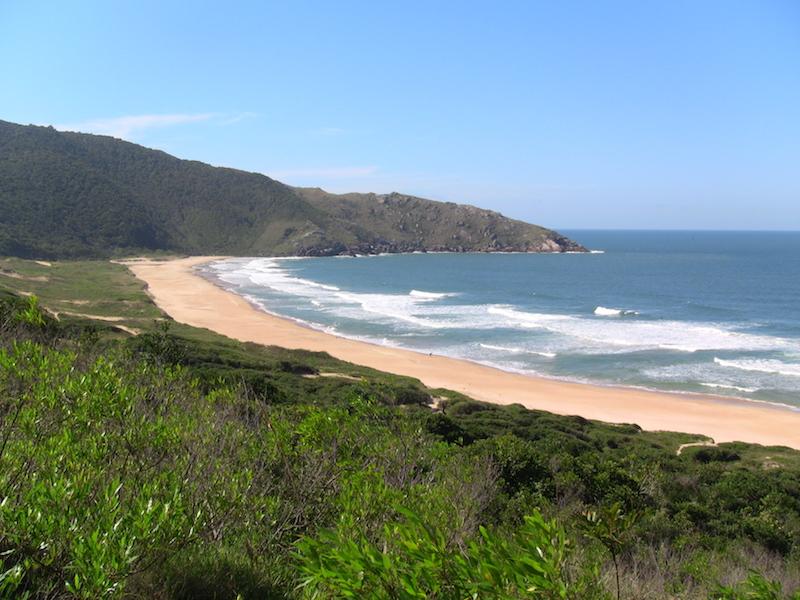 Located in the Southeast of Florianopolis, the secluded and untouched beach Lagoinha do Leste is the most beautiful beach of the island (as named by nature lovers). It is situated between the beaches Pantano do Sul and Armacao and can only be accessed by foot and by boat on days with a calm sea. This is the right place tor adventurers! The hike towards Lagoinha do Leste can start off from two different points:
Reach this place from Pantano do Sul, where a steep, 2.3 kilometer long way leads towards the beach of Lagoinha do Leste.
After about two hours of hiking , you arrive in Lagoinha do Leste. It is also possible to take a hiking tour from the beach Matadeiro, which lasts about three hours and has a flat slope. This way is 4.3 kilometers long. Both ways guide you along a steep coast through the Atlantic rainforest towards unique nature scenery: steep seaside bluffs; a miraculous beach surrounded by green hillside; a freshwater lagoon, which is optimal for swimming, and the emerald green water of the ocean, which is convenient for surfing.
The beach of Lagoinha do Leste in Florianopolis is a "must" for a day trip and should not be missed!
Accommodations can be found in the surrounding villages Pantano do Sul and Armacao. There are several pousadas near the beach that offer a cozy and friendly atmosphere for relaxation and are just the best for your holiday in Florianopolis.
Don´t forget: a companion, who knows the place, is able to guide you to your goal and can provide some information about the fantastic flora and fauna; sunblocker; mosquito repellent; much drinking water and something to eat, because at the beach there are neither bars nor restaurants. Please bring also a trash bag, for packaging and leftovers have to be taken back. Help us protecting this unique paradise!