Travelnumber: 431
Surf Trip Florianopolis 8 days/ 7 nights
Travel package
Brazil Santa Catarina Florianopolis
Let the adventure begin in Florianopolis, arguably one of the most beautiful places in Brazil. During this 8 days Surf-Trip you will be able to learn or to improve surfing in the most beautiful beaches of Santa Catarina Island, in Florianopolis. Known as a world-class surf spot, Florianopolis offers pure nature and perfect waves for beginners as well an indermediate and advanced surfers in wonderful and partly pristine beaches. Immerse yourself into the the fascinating flora and fauna of the Atlantic Rainforest, while likewise taking surf-lessons from a professional surf instructor.
Itinerary
Day 1: Arrival in Florianopolis / Get to know your surf instructor
Your driver awaits you at Florianopolis Airport and brings you directly to your accommodation, which is located just some hundred metres away from the beach and reachable by foot. In the afternoon you will get to know your surf instructor and talk about your goals, preferences and your prior knowledge in regards of surfing. You can use the remainder of the day to recover from your travel and to explore your neighboorhood.
Accommodation: Hotel Natur Campeche / Meals: none
Day 2: Florianopolis / Get in touch with the waves
Today you will experience your first 1,5 hours-class of surfing with your surf instructor. Depending on your prior knowledge, you will either get in first touch with the equipment, such as surfboard and wetsuit, and after that start learning the basic techniques. You will train paddeling and the basic moves in the sand right at the beach, before you are gonna enter the sea and get in touch with the waves. Or, if you already know the basics, you will directly enter the water to learn advanced techniques and improve your surfing skills.
Accommodation: Hotel Natur Campeche / Meals: breakfast

Day 3 to 6: Florianopolis / Surfing
You will enjoy 1,5 hours of surf lessons every day, either in the morning or in the afternoon. As a beginner, you will enjoy the never-forget-feeling of standing up on your surfboard for the first time, and start to improve your surf skills every day. As an intermediate, you will get to know new techniques, improve your surf skills and learn to ride bigger waves.
Accommodation: Hotel Natur Campeche / Meals: breakfast

Day 7: Florianopolis / Discover the island
This day is free, and after breakfast you can enjoy the day by discovering the beautiful island of Florianopolis. For example, you can go on a hike to see the paradisiac lagoon "Lagoinha to Leste", visit the center downtown with its beautiful historical buildings, or take a boat to pristine Campeche island and afterwards enjoy the nightlife in the buzzling district of Lagao da Conceicao.
Accommodation: Hotel Natur Campeche / Meals: breakfast

Day 8: Departure at Florianopolis
Today it´s time to say goodbye to the magical island of Florianopolis. Your driver awaits you at your Hotel and brings you back to Florianopolis airport.
Meals: breakfast

Services
Included Services
Transfers from Florianopolis airport to your hotel and back
7 nights accommodation breakfast included at Hotel Natur Campeche
5 days surf lessons of one and a half hours each, all surfing equipment included (wet suit and surfboard)
Further information
Not included: flights, insurance, meals not indicated, tips, personal expenses etc.

Lessons take place in Campeche Beach, which is located in the middle of the east coast of the island. Campeche is a wide beach, considered to be one of the most beautiful ones of the island, and offers perfect waves for beginners as well as for intermediate and advanced training.
Classes are of a maximum size of four learners per instructor, but outside the summer season the likelihood is that they will be a 1:1 tuition.
---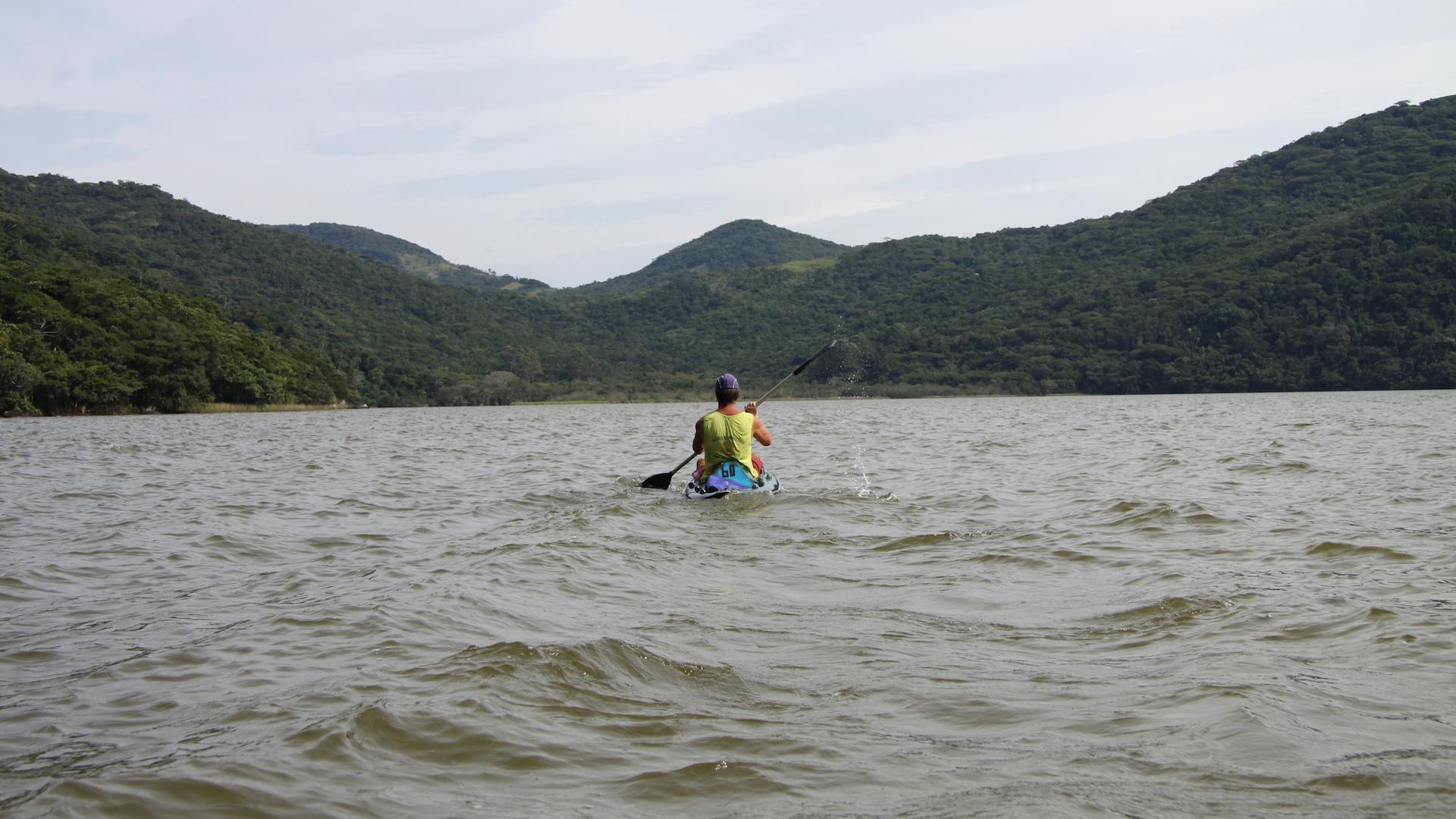 Daytrip
Brazil Santa Catarina Florianopolis
Join us on a kayak tour in the heart of the nature! The nature reserve Lagoa do Peri, which is located in the South of Florianopolis, offers with its fresh, clear water and the beauty of the Atlantic rainforest an extraordinary nature adventure.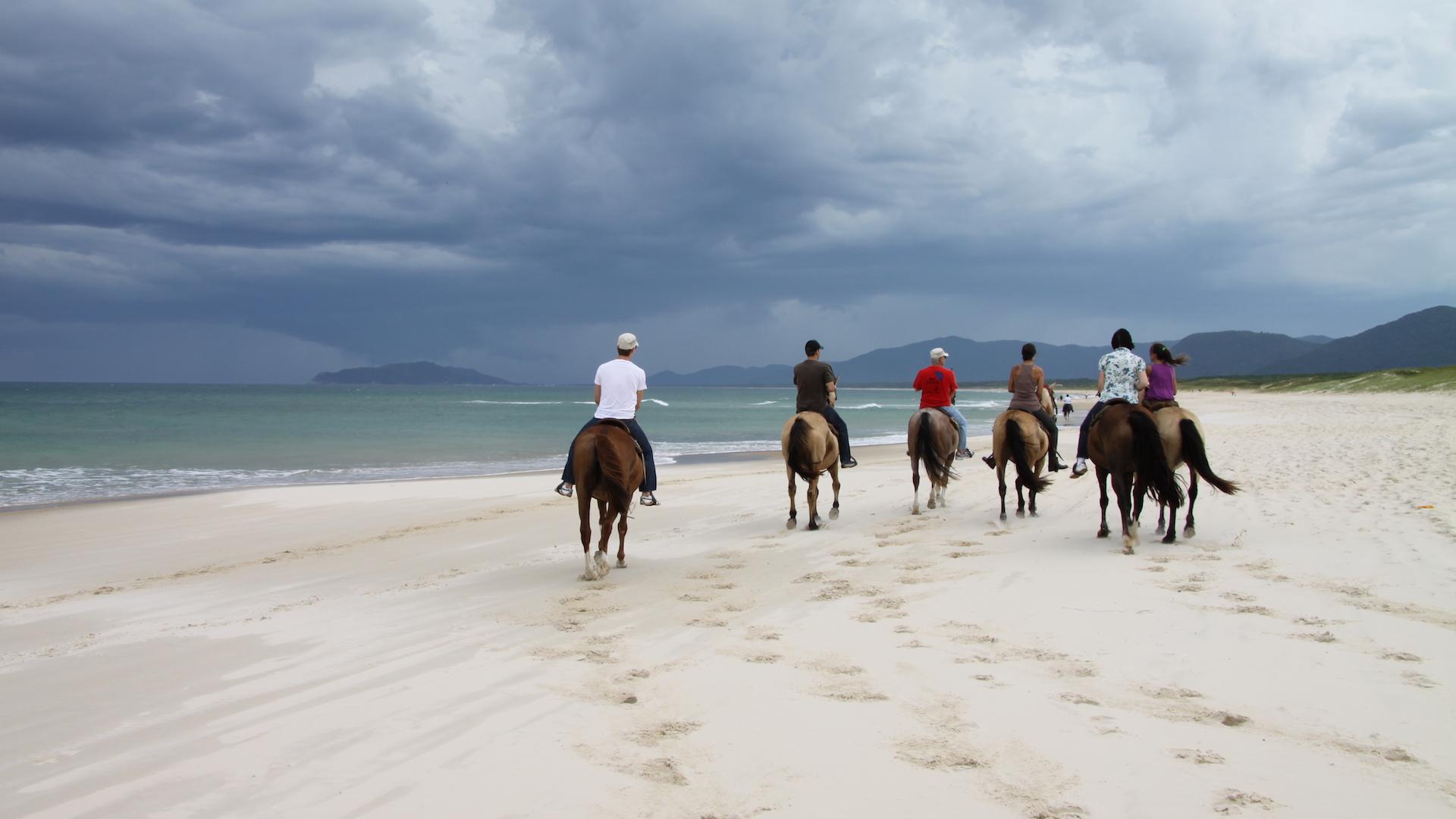 Daytrip
Brazil Santa Catarina Florianopolis
Experience the perfect combination of the two components adventure and sports activities during sandboarding and horseback riding on the beach in Florianopolis. You will ride two hours along the spacious Praia Mocambique and hereafter you can also experience an adrenaline rush during sandboarding in the magnificent dunes of Praia Joaquina, in Florianopolis.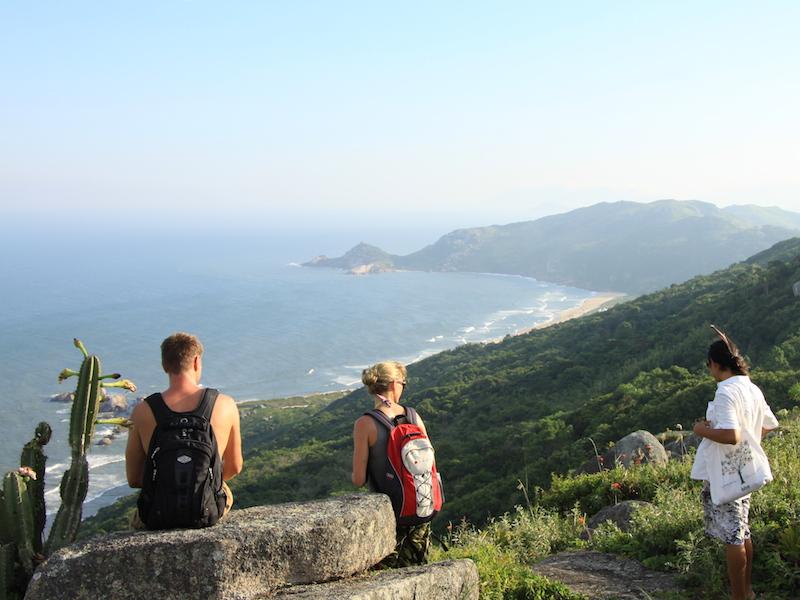 Daytrip
Brazil Santa Catarina Florianopolis
The two-hour hike to the mystic rocks leads you to one of the finest walks in the island, through the Atlantic rain forest, on a mountain peak from which you can enjoy an unique view of the district Lagoa da Conceicao and the beaches Praia Mole, Praia Galheta, Praia Barra da Lagoa and Praia Mocambique. Besides you will learn all about the mystic rocks, which were used by the natives of the island for their rites, more than thousand years ago. You will also get to know the nature conservation project.